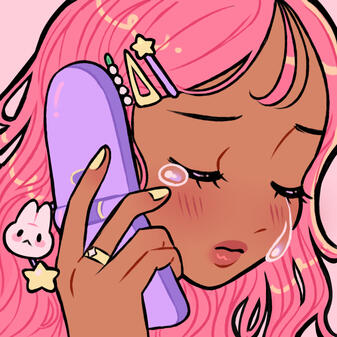 ♡ • céli • ♡
illustrator • graphic designer •
character designer • social media marketing
---
24 • she/they • dutchie currently in denmark
business inquiries: piantapng@gmail.com
---
♡ • about me • ♡
heya, i'm céli! i also go by pianta or aepoyi. i love cats so much i wanna hug em all and u can always wake me up for a chicken wing.
24 yrsnonbinarythey/them or she/herbisexualafro-caribbean/dutch
---
after working at an international music agency as a creative digital marketing assisant, graduating and getting my graphic design degree - i've moved from the netherlands to denmark.

i got experience with illustration, graphic design, character design, animation, social media marketing, proofreading and copywriting. i'm available for freelance and contract work and i'd love to work by your side !
---
♡ • links • ♡
♡ • faq • ♡
will you draw [x] for free? its my birthday
no. working for free is bad and i have bills to pay

do you take commissions?
you can generally find if my commissions are open in my pinned tweet. otherwise shoot me an email and ill let you know if im available for work.

can i use your art as icon/header/etc?
yes, as long as you credit me visibly on your profile. you're not allowed to claim my art as your own or sell my art.

can i draw your characters?
please do!! and send them to me :)

can i reupload your art?
no, unless you commissioned it

do you take requests/art trades?
no, unless stated otherwise

do you have shop?
not really, but i have an inprnt and a teespring

what programs do you use?
i use paint tool SAI for illustrations. for graphic design work i use adobe cc/cs6 master collection (photoshop, illustrator, indesign, flash, dreamweaver)

what tablet do you use?
pink Huion H580. it's my first tablet ! been drawing with a mouse before i got it. cheaper alternatives to wacom work fine

what are your brush settings?
my brush settings are up on my patreon

how long have you been doing art?
ever since shows like sailor moon, winx club, totally spies and w.i.t.c.h aired on dutch tv - around 2002. i guess i was about 8 years old. in middle school i wrote roleplay stories with friends and we made comics out of them. from then on i was always drawing or interested in the creative field.